---
3rd Anniversary - Gratitude of Black Spirit
06 March 2019 10:00
[Event] 3rd Anniversary Thanks and [Event] 3rd Anniversary Love can be sold in shops for 300,000 Silver and [Event] Together until the 100th Anniversary! can be sold for 1,000,000 Silver.
The event items in this event will not be removed even after the event ends.
Reward items given out through events can be bound or not depending on the items. These items cannot be Moved nor Restored.

Please check the description of the item to confirm if it's Bound or not.

Event period and specs. may change with future notice.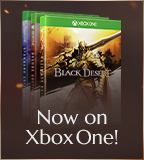 ---